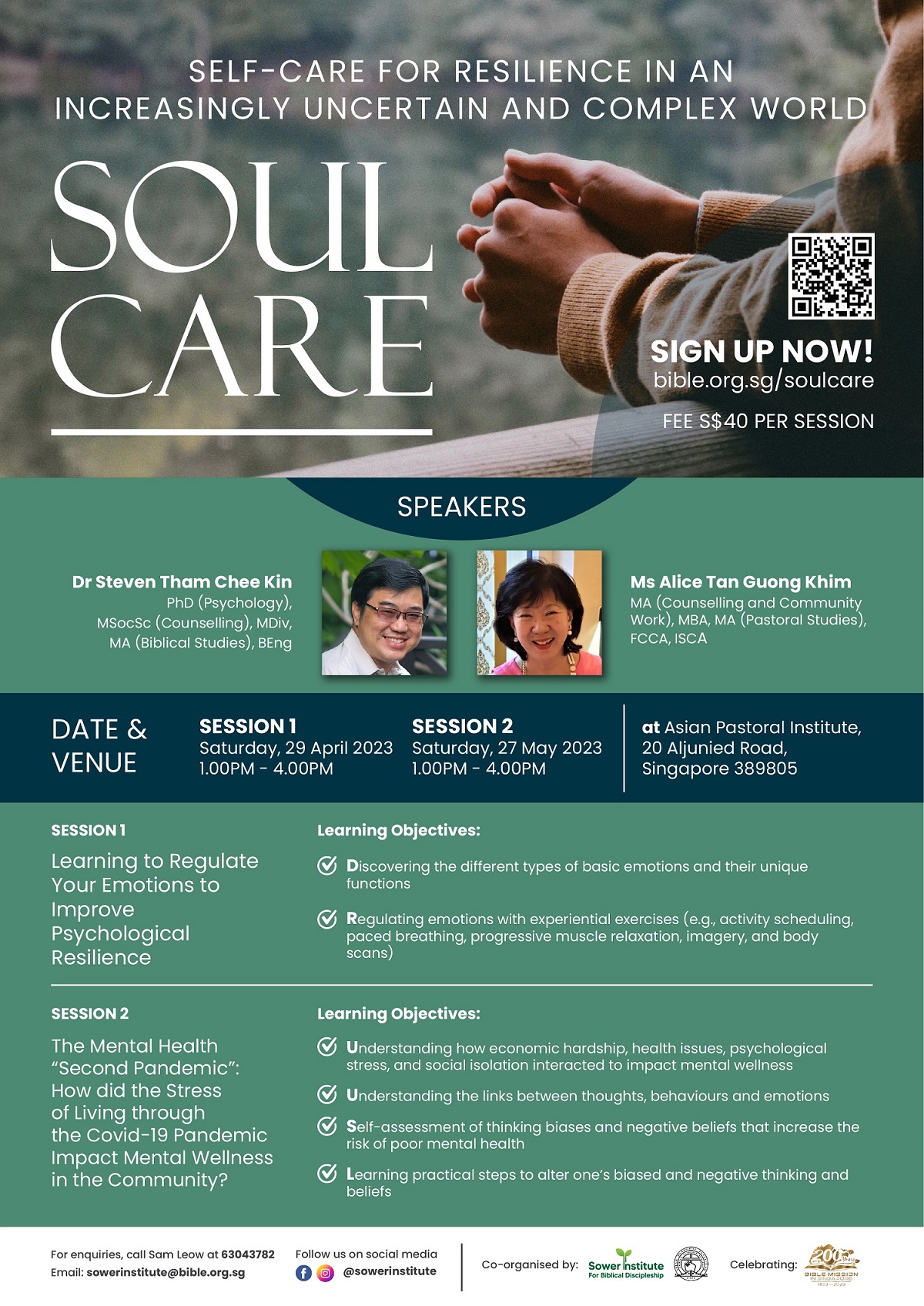 Soul Care—Self-Care for Resilience in An Increasingly Uncertain and Complex World
SESSION 1: Learning to Regulate Your Emotions to Improve Psychological Resilience
Discovering the different types of basic emotions and their unique functions

Regulating emotions with experiential exercises (e.g., activity scheduling, paced breathing, progressive muscle relaxation, imagery, and body scans

DATE: Saturday, 29 April 2023
TIME: 1.00 PM – 4.00 PM
VENUE: at Asian Pastoral Institute, 20 Aljunied Road, Singapore 389805
SESSION 2: The Mental Health "Second Pandemic": How did the Stress of Living through the Covid-19 Pandemic Impact Mental Wellness in the Community?
Understanding how economic hardship, health issues, psychological stress, and social isolation interacted to impact mental wellness

Understanding the links between thoughts, behaviours and emotions

Self-assessment of thinking biases and negative beliefs that increase the risk of poor mental health

Learning practical steps to alter one's biased and negative thinking and beliefs

DATE: Saturday, 27 May 2023
TIME: 1.00 PM – 4.00 PM
VENUE: at Asian Pastoral Institute, 20 Aljunied Road, Singapore 389805
Follow us on social media: Facebook and Instagram @sowerinstitute
Speaker:
Dr. Steven Tham Chee Kin
PhD (Psychology), MSocSc (Counselling),
MDiv, MA (Biblical Studies), Beng
Chee Kin currently serves as a lay church pastor. His 20 years of counselling experience covers a variety of issues such as marital and family conflicts, sexuality issues, work stress, anxiety, depression, and grief. He has worked at the Singapore Anti-Narcotics Association, focusing on youths and adults struggling with drug addiction and drug-related issues. He provides clinical supervision to lead counsellors and senior counsellors. He is a registered counsellor and clinical supervisor with the Singapore Association for Counselling.

Ms. Alice Tan Guong Khim
MA (Counselling and Community Work), MBA,
MA (Pastoral Studies), FCCA, ISCA
Alice is a serving church elder. She is currently counselling at Care Corner Singapore and has previously completed counselling placements at the Farrer Park and Simei Care and Counselling Center. She was also involved in rehabilitation programmes at the Hiding Place and Tamar Village Mercy Center as part of her community work practicum. To equip herself in pastoral care and counselling in her volunteering, she trained with API in a Masters of Arts in Counselling and Community Work, and a Masters of Arts in Pastoral Studies.
---