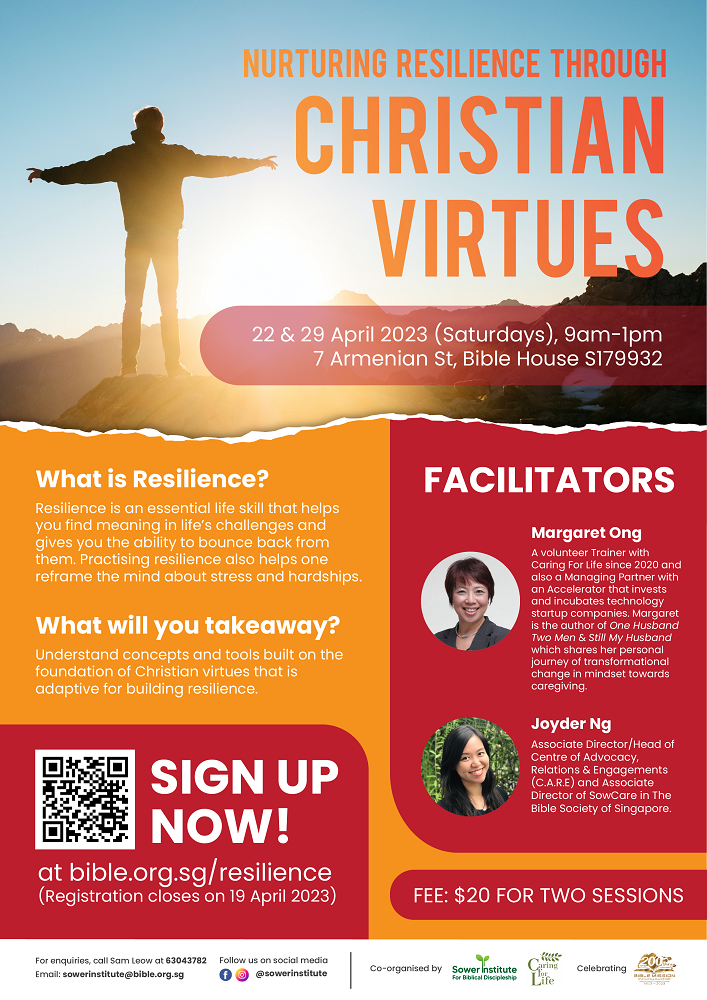 What is Resilience?
Resilience is an essential life skill that helps you find meaning in life's challenges and gives you the ability to bounce back from them. Practising resilience also helps one reframe the mind about stress and hardships.
What will you takeaway?
Understand concepts and tools built on the foundation of Christian virtues that is adaptive for building resilience.
DATE: 22 & 29 April 2023 (Saturdays)
TIME:  9am-1pm
VENUE: 7 Armenian St, Bible House S179932
FEE: $20 for Two Sessions
Registration closes on 19 April 2023
For more information, contact Sam Leow at 63043782 Or email sowerinstitute@bible.org.sg
Facilitators:
Margaret Ong
A volunteer Trainer with Caring For Life since 2020 and also a Managing Partner with an Accelerator that invests and incubates technology startup companies. Margaret is the author of One Husband Two Men & Still My Husband which shares her personal journey of transformational change in mindset towards caregiving.
Joyder Ng
Associate Director/Head of Centre of Advocacy, Relations & Engagements (C.A.R.E) and Associate Director of SowCare in The Bible Society of Singapore.
---