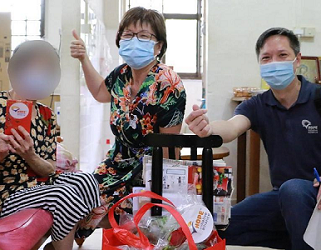 We all grow old one day. As we age, we suffer from health problems like back pain and weak legs. We no longer have the means to work and be self-sufficient. It is a common sight to see our poor and needy elderlies selling tissue papers or collecting cardboard in our neighbourhood without strong social support from their children to aid them as they grow old.
Please join us at SowCare by donating to our movement as we provide them with essentials and monetary support. Let us show love to our elderly neighbours and help them age with dignity. Thank you!
Modes of Giving
For donations via PayNow, please use your mobile banking app to scan the PayNow QR Code or key in BSS UEN No.: 201918865M.
Please indicate <Your Name> followed by <Elderly>  in the reference field.
For further enquiries you may send email to: missions@biblesociety.sg

Your donation can bring smiles and dignity to these socially isolated and vulnerable families.
For donations through giving.sg, please visit: https://www.giving.sg/sowcare-ltd-_36840538/helpneedyelderlies
For donations made via bank transfer:
Account Name: Sowcare Ltd
Account Number: 033-905817-3
Bank Name: DBS Bank Ltd
For donations made via cheques, please make cheque payable to SowCare Ltd.
(At the back of the cheque, please indicate "Elderly" and mail it to 101 Eunos Avenue 3, TSL Building, #07-10 Singapore 409835.)
For donations-in-kind, please call us at 6304 5281 / 6304 3796 to make necessary arrangements. Some items may include rice, instant noodles, biscuits, coffee packs, canned food (at least 6 months before expiry), etc. 
For further enquiries you may send email to: missions@biblesociety.sg
---