On 24 March, the Ministry of Health issued an advisory to limit gatherings to no more than ten people to curb the spread of COVID-19. This preventive measure—implemented before the circuit breaker—led to the cessation of religious services. Despite the evolving challenges, The Bible Society of Singapore remains committed to continue rendering services and providing resources to help churches cope with the evolving situation.
⠀
Fostering Dialogue within the Community
On 19 and 26 March, BSS facilitated two meetings at Bible House and the Chinese Cultural Centre for Christian leaders from various denominations to meet with representatives from the Ministry of Culture, Community and Youth (MCCY) to discuss mitigation measures and provide guidance to religious organisations on the evolving COVID-19 situation.
⠀
Pre-Order of Surgical Masks and Hand Sanitisers for Churches and Christian Organisations

In view of the shortage of masks and hand sanitisers in the early part of the year, BSS sought to provide assistance to local churches and organisations by importing about a hundred thousand  surgical masks and hand sanitisers, which were made available for pre-order at near cost price. Over 100 churches and Christian organisations responded via email and phone calls to place their orders.
In addition, Far East Organisation has also donated 40,000 surgical masks to India to aid the local communities in their fight against the coronavirus.
⠀
Live Streaming of Church Services
Responding promptly to the cessation of gatherings for religious services, BSS partnered with ThunderQuote to provide churches with free guidelines and technical assistance on how to set up live streaming services and move towards digitalisation.
⠀
Customised Encouragement Cards and Online Resources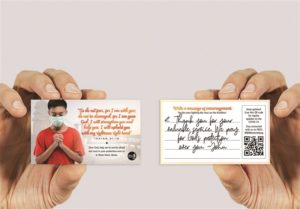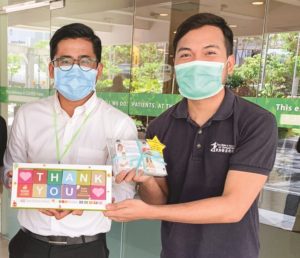 In order to spur on the frontliners during these difficult circumstances, BSS produced customised Scriptural Encouragement Cards, containing Bible verses about God's sovereignty and goodness. There were also Sheepography encouragement cards, as well as videos of animated Sheepography illustrations 
Messages were written on these Encouragement Cards by the Christian community, as well as our volunteers and partners, to thank our modern-day heroes for their sacrifices as they fight the coronavirus. Our staff visited National University Hospital and Singapore General Hospital to deliver these messages to the staff on 2 and 4 April respectively.
Additionally, the Bible Society staff and partners also wrote thank you messages to government offices to appreciate them for their hard work during the circuit breaker.
⠀
COVID-19: Gospel Tract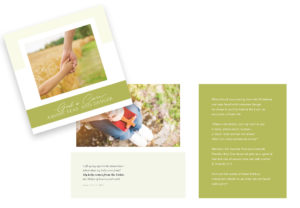 BSS has also produced Gospel tracts titled God's Help and Hope Amidst Fear and Danger in English, Chinese and Tamil to encourage the Christian community. The Gospel tract contains beautiful reminders of God's faithfulness during times when we may experience fear and uncertainty. To order these Gospel tracts for yourself or your church, kindly contact spc@bible.org.sg. 
⠀
Sower Institute of Biblical Discipleship Online Courses

 
In place of the cancelled and postponed programmes that were originally planned, the Sower Institute for Biblical Discipleship (SIBD) and Chinese Ministry moved towards digitalisation and offered a wide range of e-learning courses in English and Chinese, so that the Christian community would still be able to engage with the Word in their homes. The courses offered included Biblical studies, as well as Biblical perspectives on contemporary issues, such as Loneliness and Mental Health—pertinent issues that believers are grappling with amidst these unprecedented times. These webinars consisted of teaching, as well as interactive discussions with participants. 
One of the Chinese courses about Loneliness, Depression and Anxiety Amidst COVID-19 on 1 May was particularly well-received, with more than 1,000 participants joining the course on Zoom and YouTube. For more information on future courses, visit bible.org.sg/sower-institute or follow Sower Institute on Facebook and Instagram.
⠀
SowGood Mobile Application and News Portal
In 2019, BSS launched the SOWGOOD mobile application as part of our digitalisation efforts and to make the Word of God more accessible to the younger generation. This year, more exciting features have been added—such as an in-app Bible, articles from our community of contributors, audio and video resources, as well as a donation and volunteer sections.
BSS is also working towards launching a new News Portal, Streams of Life, where everyone can peruse up to date news and articles from various partnering organisations, churches and individual contributors. Follow Bible Society SG on Facebook and Instagram to receive the latest updates on this exciting new platform!
In spite of adversity, BSS hopes that these resources will remind the Christian community to give thanks in all circumstances and pray without ceasing (1 Thess 5:16–18) as we anchor ourselves in Christ.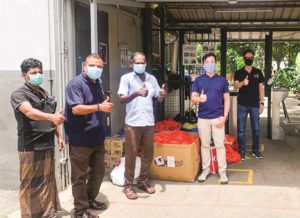 ---
Make An Impact
There are many ways you can help sow the Word and be a part of the Bible mission.
Come make a Difference. Join us in the Bible Mission!
---