This article was originally posted in our June 2021 Word@Work.
"Truly, truly, I say to you, whoever believes in me will also do the works that I do; and greater works than these will he do, because I am going to the Father." —John 14:12
 As faithful followers of Jesus, those who have been born again and redeemed are to be stewards of God's creation, extending the Kingdom of God throughout the Earth to transform lives and bring peoples to Christ through the power of the Gospel. Despite our imperfections, we can still be influential because of God's grace and power in and through us, by becoming a blessing to others to bear fruit for Him. This is also the vital role that The Bible Society of Singapore (BSS) plays as a Christ-centred and Bible-based mission agency—to become key influencers in making the Word of God known to everyone and providing care for the vulnerable and marginalised communities.
As BSS strives to do more this year through partnerships with like-minded organisations locally and overseas, we pray that God will raise up more labourers, such as volunteers, donors or partners—as "the harvest is plentiful, but the workers are few" (Matthew 9:37). If you are moved to serve the Kingdom of God, join the Bible Mission—visit bible.org.sg for more information.
Increasing Efforts to Spread God's Word to the Minority Language Groups
Making God's Word available in everyone's heart language has always been at the core of The Bible Society of Singapore's (BSS) mission. Hence, BSS strives to reach out to the nations within our nation to sow God's Word to the minority language groups in Singapore such as the Tamil, Bahasa, Thai, and Filipino. In addition, BSS has also been reaching out to the Chinese community through various initiatives, such as the Bible translation project for the Li minority language in China.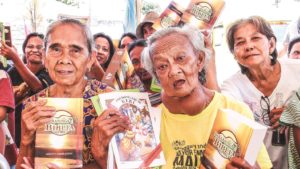 In the last quarter of 2020, Sower Publishing Centre (SPC)—a ministry of BSS— launched and published a new Chinese Christian Theological Explorations series. These include The Apostles' Creed: A Chinese Catechism, The Lord's Prayer: A Chinese Catechism, The Ten Commandments: A Chinese Catechism, Meditations on the Birthing of Christ, and An Illustrated Brief History of Christianity. Through the increased efforts and number of produced resources, we hope to empower all language communities to learn more about the truth of God's Word in their own language and to influence and impact the people around them.
For 16 years, SPC has also been commissioned by the National Council of Churches in Singapore to produce the annual Lenten Devotional booklet for the Christian community. These were made available in English, Chinese, Bahasa Indonesian, Tamil, and even Hokkien. With a theme From Fear to Faith, this year's Lenten Devotional e-book version was downloaded worldwide. Nearly 16% of the total e-book downloads originated from 19 countries in North America, Europe, Asia, and Oceania. There were also a total of 7,200 copies printed for the English version and 3,800 copies for the Chinese version.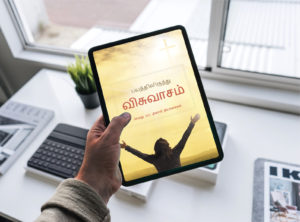 Building Up Christian Faith Through Engagement Programmes
Apart from publishing a plethora of resources and Scripture materials, BSS's various ministries also seek to increase its reach by working closely with our local, regional and global partners in 18 countries through engagement programmes, to cater to the growing needs of the minority language communities. As of last year, more than 17,000 people from 20 countries have attended our various virtual equipping programmes.
Over the years, BSS has been actively engaging people with the Word of God through our Language-based Ministry Programmes. The Chinese Ministry of BSS has been organising various Bible-based initiatives, such as The Bible and Chinese Culture Festival (BCCF) to influence the Chinese Christian community to appreciate the integration of the Bible and Chinese culture in a creative way. The D6 Family Conference was launched in 2016 and has been an annual event since then. It was finally adapted to Chinese D6 Conference in 2017 and has also become an annual event that aims to equip the participants with practical principles in discipling and influencing the next generation with Biblical values.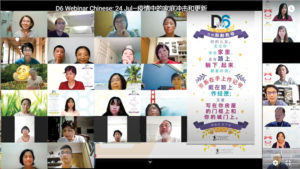 The Alliance of Indian Ministries (AIM) was also launched in 2018 and is now working closely with The Alliance of Guest Workers Outreach (AGWO)—a movement of Hope Initiative Alliance—that aims to take the love of God to the guest workers in Singapore and overseas. In addition, starting this year, BSS will be partnering with Network of Filipino Churches in Singapore (NetFIL) in order to reach out to over 200,000 Filipinos in Singapore. These are just a few of the many initiatives we have conducted to reach out to the various communities with the Word of God.
Influencers of Hope and Faith
Aside from serving the minority language groups, it is also equally important for BSS to cater to the needs of the people who are struggling with the psychological impacts of the current COVID-19 pandemic—for we are called to comfort those in trouble with compassion and comfort we receive from God (2 Corinthians 1:3). We remain committed to being the influencer of hope and faith to people dealing with such crises.
Hence, SowCare—the community service arm of The Bible Society of Singapore—has been providing holistic care for the vulnerable, poor and needy communities, such as the homeless. Since 2020, a series of outreach programmes for the destitute have been launched, especially during festive occasions.
On 12 and 13 May 2021 (Hari Raya), SowCare hosted an event for the rough sleepers at S3P@Bible House and S3P@Life Centre, where special festive meals were distributed to the rough sleepers, as well as 'green packets' and new shirts as gifts.
The Sower Institute for Biblical Discipleship (SIBD)—a BSS ministry—has organised various mental wellness programmes. This year, the Empowerment for Effective Self-Care was organised by SIBD from January to March to increase awareness of mental health issues. The LIFE Training—a suicide prevention workshop—was also organised monthly since February 2021 to equip the participants in caring for those who struggle with suicidal ideation. (More information on these events can be found on page 27.)
BSS is also supporting the inaugural Christian Mental Health Conference in July 2021. The conference is organised by Christian Mental Health Advocates, Association of Christian Counsellors and Promises Healthcare that sought to provide clinical perspectives on the issues of mental health and how these perspectives stand in relation to Biblical teachings.
With the rise of secularism, radical ideologies and extremism, being ambassadors of Christ also means influencing the world with Biblical values. Since 2014, this has been the vital role of ETHOS Institute for Public Christianity—a Christian think-tank—to serve the Church and society by engaging contemporary issues and trends from the Christian perspective. In October 2020, the ETHOS Annual Conference 2020 was held to help participants understand as to how our Christian foundation plays an important role in shaping and influencing moral values and the common good. In March, Mr K Shanmugam, Minister for Home Affairs and Minister for Law, graced the ETHOS Conversation 2021: Religion and Politics in Singapore as the Guest of Honour. The event helped to equip the Churches in addressing the complex intersections between religion and politics. In April, nearly 1,000 people signed up for Church and Society in Pandemic Times, where Mr Lawrence Wong, the then Minister for Education and Second Minister for Finance, discussed the impact of the pandemic and its effect via Zoom. (More information on these events can be found on page 27-28.)
Influencing the Next Generation
With the increased influence of digital media to the younger generation—exposing them to a plethora of worldly beliefs and practices—it is also crucial to engage the youths with Bible-based initiatives.
That is why, aside from the guest workers, homeless and other vulnerable groups, SowCare—the community service arm of BSS—has also increased its efforts to reach out to the youths in Singapore. In December 2020, SowCare participated in the Ministry of Culture, Community and Youth (MCCY)'s Mission: Unite Hackathon. The SowCare Together team emerged as one of the top ten finalists. A grant of SGD$20,000 was presented by President Halimah Yacob to the team in order to implement its initiative that aims to influence the youths to do good together for the vulnerable communities. On 3 April, the SowCare Together initiative was officially launched by Mr Alvin Tan, the Minister of State, Ministry of Culture, Community and Youth & Ministry of Trade and Industry with representatives from various partnering organisations. (More information on these events can be found on Page 20.)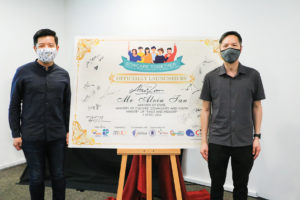 Increase Christ's Followers and Bible Mission Supporters
In spite of the changing times, God's powerful and influential Word has enabled the Bible Mission to step up its efforts to fulfil the Great Commission. By following in Jesus' footsteps, we endeavour to become fishers of men, so that many may know God's life-transforming Word and follow His Son as their ultimate Influencer.
Without givers like you, the Bible Mission cannot have an impact or influence on the community. With your support, we are partnering with our sister Bible Societies to bring hope and light in the midst of the dark world we are living in. Together, we can make a difference. Click here to donate today.
---