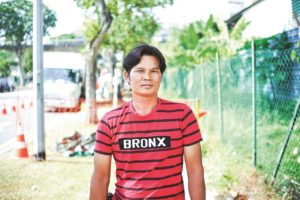 This article was originally posted in our December 2019 Word@Work.
Feature Article: Showing Love and Sowing Care
For the whole law is fulfilled in one word: "You shall love your neighbor as yourself."
— Galatians 5:14 ESV
---
As a season of thanksgiving, Christmas reminds us of how the Word became flesh to dwell among us, experience our pain, and show us steadfast love. Just as Jesus walked and lived among people who were marginalised and faced discrimination—His ministry on earth taught us that it is through caring for others that we may outwardly manifest His love in us.
While such vulnerable communities may not be as visible in Singapore as in other societies, there are communities with unmet needs and abundant opportunities to sow care—such as with single parents, people with disabilities, low-income elderly and guest workers.
Guest workers' needs, in particular, may often be overlooked as they are transient people group. In order that we may inclusively care for people of all backgrounds, The Bible Society of Singapore has actively sought to reach out to the guest worker community through our charity, SowCare. These efforts have included holistic care initiatives in partnership with the Alliance of Guest Worker Outreach (AGWO) and over 100 other voluntary welfare organisations (VWOs), civil organisations, corporations, professional bodies, guest worker dormitories, and government agencies.
As we ministered to these guest workers, many of them shared their stories and challenges with us. Khomthong Khammai, a veteran guest worker from Thailand, shared how his wife had passed away while he was working overseas; this tragedy left him as a single-parent of a daughter who is now 21 years old. Struggling to make ends meet, he remains working in Singapore to support both of them. Like Khomthong, there are other guest workers who endure much hardship in order to provide their families with a better life. Through our acts of kindness, many more guest workers will be blessed as well.
---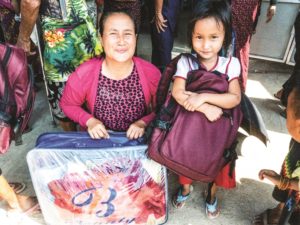 In this Christmas edition of Word in Action, some of our partners and other prominent leaders in our nation share snippets of thought, on how the local community can care for the underprivileged and vulnerable among us, like Khomthong.
"What does Christmas as a season of love and care, mean to you?"
"Christmas reminds me of the kind of love that is unconditional and expects nothing in return. We can all strive to learn to similarly love especially the vulnerable in our midst. Action always speaks louder than words. Just do it. As John Wesley once advised, 'Make all you can, save all you can, give all you can.'"

— Ms Denise Phua, President of the Autism Resource Centre (Singapore), Minister of Parliament (MP) for Jalan Besar Group Representation Constituency and Mayor of Central Singapore District.

"As a season centred on Christ, Christmas is the perfect opportunity for us to exemplify the love of God for vulnerable communities. Through our tangible expressions of care, the message of the Gospel is not just shared but lived out in life-transforming ways. "

— Rev Ezekiel Tan, General Secretary of The Bible Society of Singapore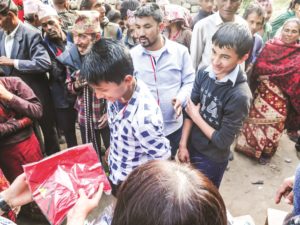 "How do you think the Singaporean community can rise up to care for vulnerable communities among us?"
"There are many unsung heroes who reach out actively to assist those in need, and they have really done so quietly behind the scenes. For sure, there are people who might think that the government is doing its job of taking care of our vulnerable, but there is something that is difficult to be supplanted by the government, and that is the love and care from the community towards the vulnerable.

Simple things such as looking out for one another, lending a helping hand or even a listening ear can make our society much more caring and a much better place for everyone, especially our most vulnerable."

— Ms Joan Pereira, MP for Tanjong Pagar GRC and Advisor to Henderson-Dawson Grassroots Organisation

"I see the need to get kindred spirits to network and collaborate with each other. When there is sharing of resources and ideas, and when we work together, we do not need to reinvent the wheel; we can leverage on each other's strength and do a better job together than alone. By working together, we can eliminate wastage of resources and make a greater impact for the good of these vulnerable communities. "

— Dr William Wan, General Secretary of Singapore Kindness Movement (SKM)

"Acknowledge and accept their presence in our midst in our daily lives, buy a packet of food for them and say "thank you" if we notice that they are regularly serving us in our neighbourhood."

— Ms Neo Ling Ling, Associate Director of SowCare Ltd


"What is one verse that reminds you of the Christian call to serve our community?"
"But God shows his love for us in that while we were still sinners, Christ died for us." — Romans 5:8 ESV

"To me, this verse signifies our call to love and care for the ones who are unable to do the same for us—it must cost us something."

— Rev Samuel Gift Stephen, Chairman of the Alliance of Guest Workers Outreach (AGWO)
---
Let us remain encouraged to sow care into the lives of those around us; fully assured that every effort will create an ever widening ripple of love—in the lives of individuals, their families and communities. 
We were blessed to witness such an impact in the life of Roopa, who is just 9 years old. In rural villages in India, young girls—like Roopa—take care of house chores as well as their siblings while their parents work. These children, who are forced to undertake heavy responsibilities at such a tender age, may experience loneliness and feelings of abandonment.
Recognising the needs of these girls, a local pastor in Roopa's village sought her out, invited her to church and even gifted her with her own Bible. Transformed by the kindness that the pastor has extended to her, Roopa now desires to be a doctor so that she may save lives, help her community, and care for those in need. Indeed, the ones who sow bountifully will reap bountifully!
For more information on how you can join us in making a difference in our local communities by being a partner, visit www.bible.org.sg/take-action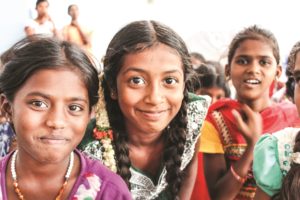 ---