Famous Bible Phrases
How often do you stop to consider to the origin of the idioms we use so often in daily life? A surprising number of phrases in the English language originate from the Word of God! Watch this space for a new phrase from Famous Phrases from the Bible every month as we include it in our monthly eNews!
Sacrificial Lamb
Usage: An innocent or defenceless victim sacrificed although they had personally done nothing wrong.
Context: The Bible takes seriously the offence that sin causes to God. In the Old Testament animals were sacrificed to represent their owner dying in the owner's place so that the owner was 'put right' with God. In the New Testament Jesus is presented as a sacrificial victim who chooses to carry the sins of those who trust in Him and so enables them to be reconciled with God. 
Bible Reference: "he shall bring to the LORD as his compensation for the sin that he has committed, a female from the flock, a lamb or a goat, for a sin offering. And the priest shall make atonement for him for his sin." – Leviticus 5:6 (ESV)
"Famous Phrases from the Bible" Publication for Sale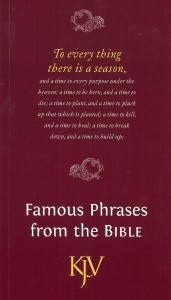 Have you been enjoying the famous Bible phrases we have been sharing on our website, Facebook, and eNews?
Get your own copy of this new publication (introductory offer at $3 before GST), available now at our Bible Resource Network!
---