Calling His Family everywhere to join us in this Global Bible Proclamation Event over Shavuot and Pentecost 2023!
"that which we have seen and heard we declare to you…" 1 John 1:3a
INVITATION FOR 2023
Declare 2023 is a celebration of God's Word, spoken as a banner for the nations. Calling our worldwide family from every tribe and tongue, we invite you to unite over 72 hours of proclaiming the entire Bible from Genesis to Revelation to call out highways of blessing over the earth. Together we will align to raise a joyous sound – a revelation of Jesus Christ's truth, righteousness and love to bless all nations in restoration to His perfect purpose. Come unite in this festival of reading the Bible - declared in words, songs and prayers!
ABOUT DECLARE
DECLARE is organised by the Arts Collective, a ministry of The Bible Society of Singapore, and is supported by Elijah 7000.
[slide-anything id="49974"]
2023 FORMAT – SINGAPORE Track
The SINGAPORE Track is 'Live' onsite at The Bible House, Pavilion of the Nations (Level R) - NO online reading for this track!

Livestream during event dates on 

Facebook 

(link to 

https://www.facebook.com/DeclaretheWord)

1-hour Bible reading slots that include time for worship and prayer (recommended number of 4-6 readers)

Anyone can read – get friends, your family, your neighbours or your church involved. Children and youth are valued readers – please let the little children come & read too.

Individual readers – be a hearer and a reader, following the readings onsite at the Bible House , or on Facebook livestream. Please note that bookings for reading slots are for groups of 4 or more only.

To register for SINGAPORE Track:
This is a 1-step registration –
#1 - Sign up here for a reading slot now for GROUPS (4-6 readers) on Eventbrite.
You will receive a confirmation from the Declare team by email.
(For bookings, if you cannot find a particular scripture eg. Rev 1, please note it is likely already booked, or it is programmed on the Nations Track.)
On your Reading Day - get over to The Bible House, Pavilion of the Nations (Level R), at 7 Armenian Street, Singapore 179932.
Reading is

ONSITE

only.

We suggest 4-6 readers per 1-hour reading slot.

Reading slots are limited, so please book your reading slots responsibly and do not 'over-book'.
IMPORTANT: The Declare team will email you about 3 weeks before event start date at the email that you used here. This will contain updates, information and instructions for your reading session.
2023 FORMAT – NATION Track (for speakers from overseas)
Please email us at art.collective@bible.org.sg to register your participation.
Participating nations will be assigned Bible passages for your reading. You will then do a video recording of your reading and send the recording to us. The recordings will be livestreamed on Facebook during Declare. The livestream schedule will be released closer to Declare.
Deadline for submission of recording: 8 May 2023 (Monday)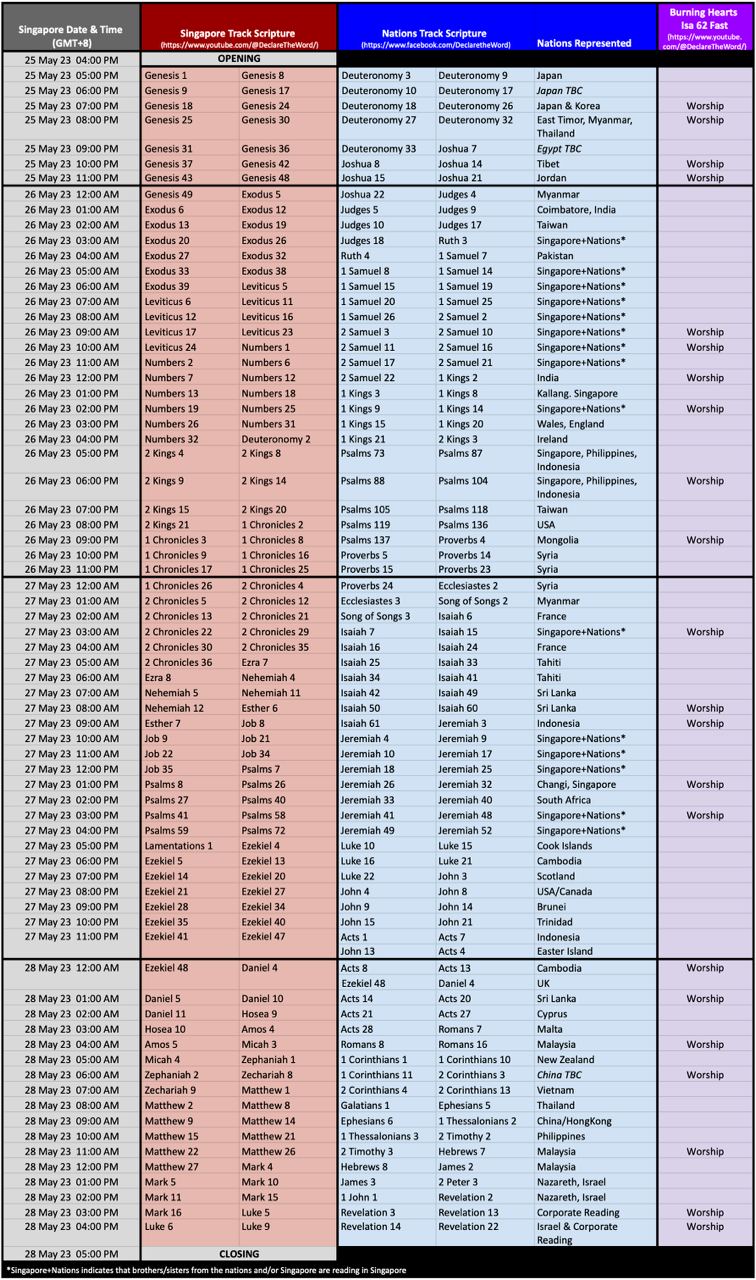 ---