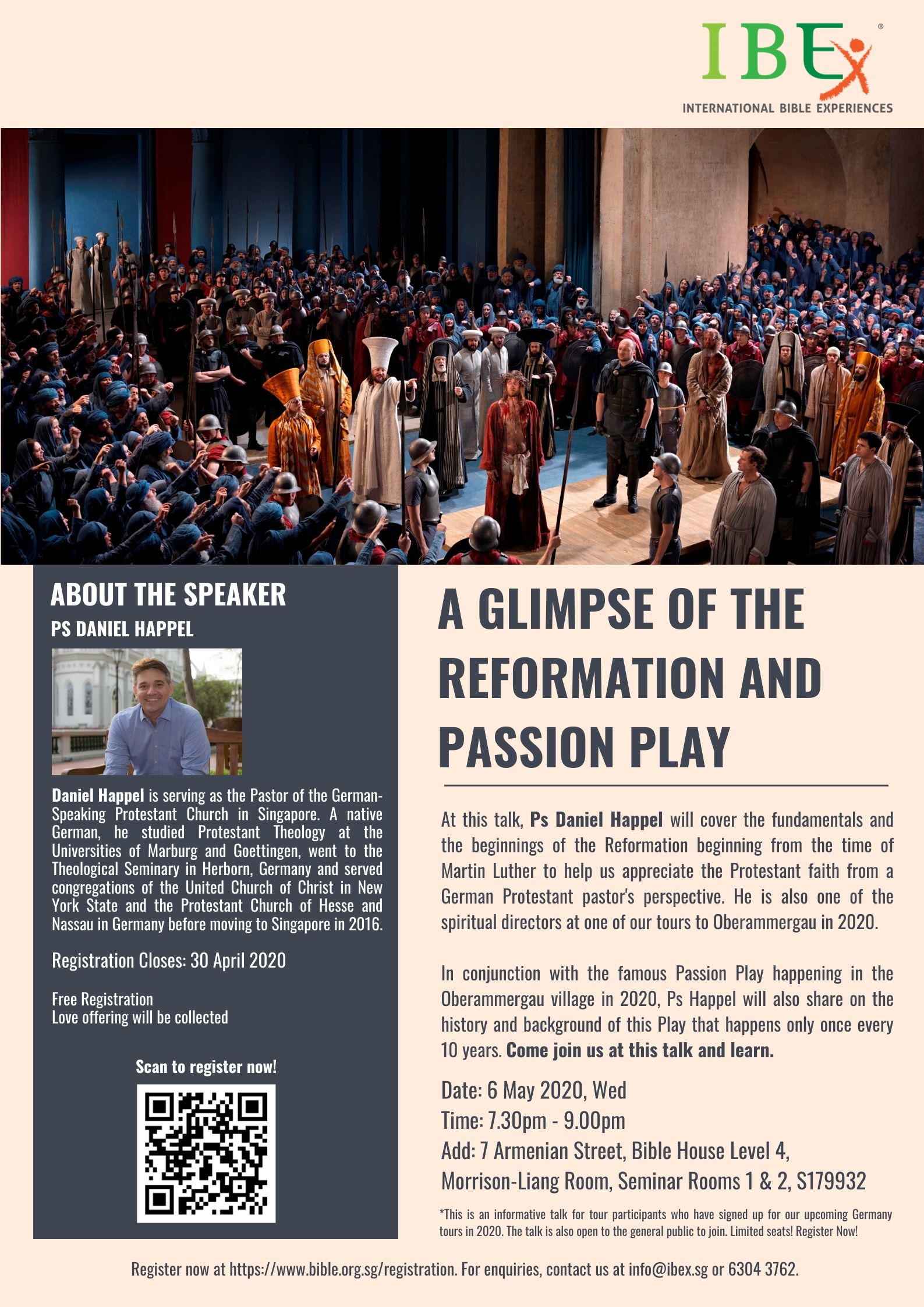 At this talk, Ps Daniel Happel will cover the fundamentals and the beginnings of the Reformation beginning from the time of Martin Luther to help us appreciate the Protestant faith from a German Protestant pastor's perspective. He is also one of the spiritual directors at one of our tours to Oberammergau in 2020.
In conjunction with the famous Passion Play happening in the Oberammergau village in 2020, Ps Happel will also share on the history and background of this play that happens only once every 10 years.
Come join us at this talk to learn more!
This is an informative talk for tour participants who have signed up for Ibex's upcoming Germany tours in 2020. It is also open to the public to join. Limited seats! So register now!
Date: 6 May 2020 (Wed)
Time: 7.30pm - 9.00pm
Venue: 7 Armenian Street, Bible House Level 4
Morrison-Liang Seminar Rooms 1 &2, S(179932)
Speaker: Ps Daniel Happel
Daniel Happel is serving as the Pastor of the German-Speaking Protestant Church in Singapore. A native German, he studied Protestant Theology at the Universities of Marburg and Goettingen, went to the Theological Seminary in Herborn, Germany and served congregations of the United Church of Christ in New York State and the Protestant Church of Hesse and Nassau in Germany before moving to Singapore in 2016.
Free Registration
Note: *A love offering will be collected.
Registration Closes: 30 Apr 2020
For enquiries, contact us at 6304 3762 or info@ibex.sg. (TA02822)
Note: [Last update: 20 Mar 2020] We regret to inform you that this talk has been cancelled due to the current situation caused by COVID-19. We will be contacting everyone who have registered and apologize for the inconvenience caused.
---