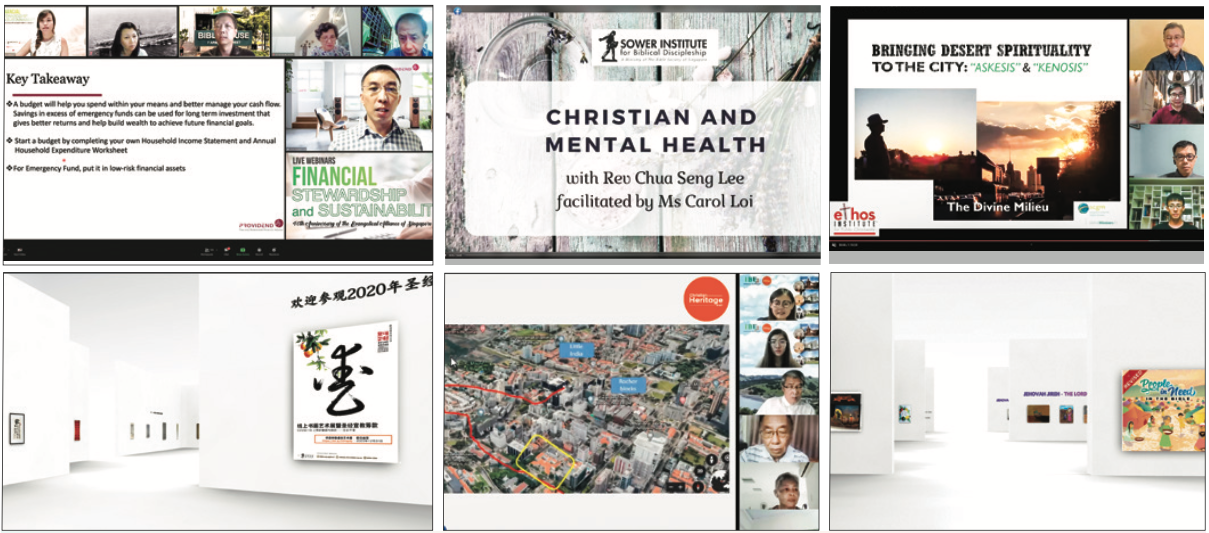 Encouraging & Engaging Communities in Need
Christmas is a very special time of the year; it is a time where we come together to remember the birth of our Lord and Saviour Jesus Christ, who came down to earth in human form to bring hope to humanity. When we consider the birth and life of Jesus, we are also reminded of Jesus' acts of kindness to the needy and the care he showed for those around him.
In reflecting on the spirit of Christmas, renowned preacher Charles Spurgeon once said, "And when the Lord Jesus has become your peace, remember, there is another thing: good will towards men. Do not try to keep Christmas without good will towards men."
This year presents us with unique circumstances, as we celebrate the birth of Christ in the middle of a pandemic—a greater call for us to cling on to the Word of God, which promises us that all things will work together for good (Romans 8:28). This is the spirit that The Bible Society of Singapore (BSS) hopes to echo this festive season, by encouraging and engaging communities in need as we move towards a new normal.
Engaging the Local Christian Community: Digitalisation of Programmes and Initiatives
In order to remain relevant and continue serving the Christian community, BSS has launched several digitalisation initiatives in the past few months—which have allowed us to connect with Christians and provide useful faith-based resources in spite of restrictions on public gatherings. One of our first initiatives was the various online webinars and courses to engage the public with God's Word from the various ministries—the Sower Institute for Biblical Discipleship (SIBD), ETHOS Institute for Public Christianity, and our Chinese Ministry. One of these webinars was the recent Financial Stewardship webinar, in partnership with the Evangelical Alliance of Singapore (formerly the Evangelical Fellowship of Singapore) in conjunction with their 40th anniversary. More information about these sessions can be found on page 28.
To further assist Churches and fellow Christian organisations with adapting to the new normal, BSS has also launched Sower CommuniTech, which aims to help streamline administrative processes and ministry with the use of technology. Sower CommuniTech provides a plethora of digitalisation and media services, such as a National Church Procurement Platform, SecureMeet, Online AGM Solution, PayNow custom QR code generator and webinars on how to use these platforms.  For more information, visit bible.org.sg/communitech.
Encouraging Communities in Need: Initiatives for Guest Workers and Rough Sleepers
In continuing with our core mission of serving the vulnerable and needy amongst us, SowCare—the social service arm of BSS—has been working closely with the Alliance of Guest Workers Outreach (AGWO)—a movement of Hope Initiative Alliance (HIA)—to provide holistic care for the guest workers since the commencement of the circuit breaker in April. With the combined efforts of our volunteers, partners and donors, we have managed to distribute more than one million Care Meals and 1.2 million medical supplies, hygiene products and other food items to over 21,000 guest workers in 300 dormitories.

As these guest workers gradually prepare to resume work after months of lockdown, BSS hopes to go a step further in showing care for them not just in relation to their physical needs, but also their psychological and emotional needs. In this phase, SowCare is focused on the mental wellness of the migrant workers by providing suicide prevention support, counselling, recreation activities and befriending services. On 2 September, SowCare was actively involved in an outdoor activity for about 50 guest workers at Labrador Park and Hort Park. The event was a trial run for Project Sunshine—in partnership with AGWO and the Ministry of Manpower — which seeks to improve the holistic wellbeing of the guest workers. SowCare has also invited hundreds of churches to participate in the Project Sunshine initiative to bless more guest workers especially during Christmas season. More information about the event can be found on page 20.
While we have moved on to a phase of caring for the mental wellbeing of guest workers, SowCare is continuing to show care by bringing them good cheer during festive seasons, such as the recent Deepavali. SowCare supported AGWO on 14 November to distribute meals to about 8,000 guest workers from more than 70 factory-converted dormitories (FCDs)—as reported on The Straits Times and CNA. The meal comprised chicken biryani, kesari and laddus (types of Indian sweets), muruku, other Indian sweets and drinks. More than 100 volunteer drivers were mobilised to help to deliver the food to the various FCDs across the island.
Minister of State for Culture, Community and Youth & Trade and Industry, Mr Alvin Tan, also joined the food distribution exercise. AGWO was glad to partner with the Assurance, Care and Engagement (ACE) Team of the Ministry of Manpower and other like-minded charity organisations in this initiative.
Looking ahead, we are also planning celebrations with guest workers on International Migrants' Day on 18 December and Christmas this year.
Aside from the guest workers, whose lives have been affected by the pandemic, the ripple effect of COVID-19 has also caused substantial disturbances and difficulties for the lives of many rough sleepers in Singapore.
During the circuit breaker and beyond Phase 1, Bible House opened its doors to provide a temporary shelter for 10 rough sleepers under the S3P (Safe Sound Sleeping Places) project, launched in close partnership with the Ministry of Social and Family Development (MSF). The temporary shelter at Bible House was known as S3P@Bible House.
Since July, SowCare has also been providing essential items to almost 260 rough sleepers under The Innkeeper's Project. This has been done through the valuable support from our generous donors and partner organisations—CDC Funds, SG Strong, and OSCAR@SG Fund. Read page 22 for more information about SowCare's initiatives to help the rough sleepers.
Empowering Global Communities: Overseas Holistic Missions

Staying true to our mission of bringing the hope of the Gospel to unreached communities overseas, BSS has been working with our sister Bible Societies in Uganda, Bangladesh, Nepal, Lebanon, and Israel to bring the Word of God to the unreached in these countries. Our partnerships with these countries include providing and sharing resources with them to bring the Bible to the local communities, as well as providing humanitarian aid when needed—such as during the explosion that happened recently in Beirut, Lebanon, which caused the devastation of homes, and even the Bible House in Lebanon. In November, Cambodia, Vietnam and the Philippines were massively flooded due to raging typhoons in the region that displaced millions of people. We are working closely with our sister Bible Societies in these countries to extend practical help for the victims and bring the Word of Hope to them. Read pages 10-12 for more information about BSS' overseas missions.
In the words of the late Billy Graham, "Christ didn't only come into the world that first Christmas night in Bethlehem, but He wants to come into our lives today, and every day of the year." As we gather with our families and friends to celebrate Christmas amidst these new circumstances, may we be moved and comforted by the unending hope we have in Jesus, and spread His love to those in need.
Want to contribute to the Global Bible Mission? Visit bible.org.sg/donate to donate.
---